Posted by
Medvis Jackson
on Aug 21, 2012 in
Events
,
Featured Articles
|
Comments Off
FIGMENT 2012 Summer-Long Installations
FIGMENT's acclaimed interactive Sculpture Garden and artist-designed Minigolf Course are returning to Governors Island, welcoming visitors to the Parade Grounds to play with, dance around, contemplate on, and experience these wonderfully imaginative installations. The centerpiece of FIGMENT's summer-long installations for 2012 is the Treehouse, expanded and returning to Governors Island for a second year.This year's Minigolf Course is based on the theme "Arcade." Visitors can whack-a-clown, rescue a princess, and save the world from inevitable asteroid destruction one putt at a time.
FIGMENT's Summer-Long Installations are open and free for the public to play and enjoy, opening on FIGMENT weekend (June 9-10) and continuing to September 23. For more information, visit http://newyork.figmentproject.org/.
PUBLIC SUMMER: Library of Immediacy by SUPERFRONT: July 21 – September 23
The Library of Immediacy outdoor instillation, located on the Parade Ground, was designed and constructed by the architectural duo, saA, who are Amy Chang and Seo Young Shin. The instillation will host an ongoing, community-curated installation by The People's Library and artist collective, DADDY, on weekends from July 21st – September 23rd. Visitors are welcome to bring and take books to add to the growing collection of this satellite of The People's Library. In addition, concurrent with The Library of Immediacy, DADDY presents #LOANER, a democratically curated, anecdotal, and didactic display of objects. Viewers are asked to present and create wall text for personal items; objects may be loaned if replaced with a similar object for display.
Cooper-Hewitt Graphic Design-Now in Production, Building 110
The exhibition explores some of the most vibrant graphic design work produced since 2000, including posters, books, magazines, identity and branding, information graphics, typography and typefaces, and film and television title graphics. The exhibition is in Building 110.
Visit the Newly Re-Opened Castle Williams
Visitors interested in seeing the newly re-opened Castle Williams will have the opportunity to learn about the history of Governors Island in an intimate setting led by a National Park Service Ranger, as tours to the top of the Castle are limited to small groups. Tickets will be on a first-come, first-served basis for the Castle and roof. Visitors can go to the gazebo outside the Castle for timed tickets. More information on these programs and access can be found at www.nps.gov/gois.
Mark di Suvero at Governors Island: Presented by Storm King art Center, Throughout the Island
The exhibition is on view for another exciting season on Governors Island and includes a soaring new sculpture and programs for the public to enjoy. The exhibition is free and installed throughout the Island's public spaces.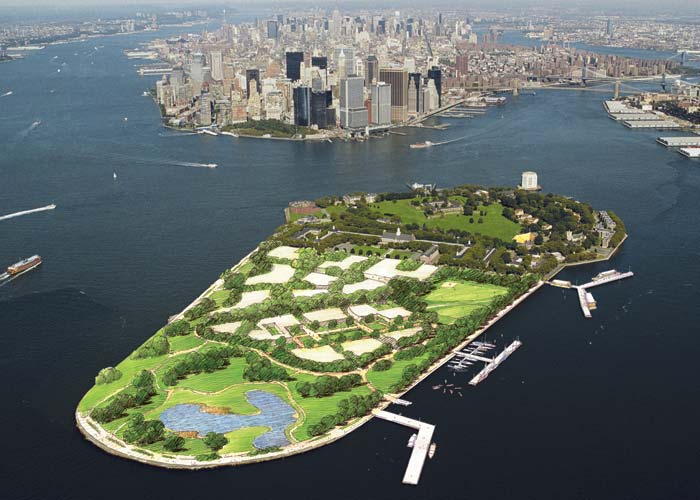 Empire Historic Arts Fund presents the fashion exhibit: "Tattered and Torn (On The Road To Deaccession)", Governors Galleries
An installation of costumes de-accessioned from various museums due to condition issues that make them undesirable for exhibition in the upper echelon museum world. Empire Historic Arts takes a different stance and offers them as an amazing resource to people interested in the design and construction of 19th century costume.
Children's Museum of the Arts Free Art Island Outpost Program, Nolan Park, 11 AM – 3 PM
Join the Children's Museum of the Arts Teaching Artists for new themes and projects each weekend, including everything from painting and drawing to large-scale sculpture. Children and families can stop by for hands-on art for kids!  For more information visit www.cmany.org.
Earth Matter Compost Learning Center, Picnic Point,12 PM – 4 PM
Earth Matter Compost Learning Center is a place to discover composting, the art and science of turning food and yard waste into a healthy soil amendment, rich in the nutrients that plants need to grow. Come for a fun and free hands on experience and unravel the mysteries of "black gold," and pet our newest compost workers – 38 adorable chicks and two kid goats!
Street Math Investigations presents Mü-Math: The Mobile Unit to Promote Mathematical Thinking, Governors Galleries, 11 AM – 3 PM
Adults and children five and up are invited to immerse themselves in different styles of mathematical thinking in ways that are playful and engaging. The 15 New York City themed installations are designed to offer different levels of challenge for children and adults alike.
For a full list of programs and events, visit http://www.govisland.com.